*sigh*

...the new sound card has the same ringing as the cheaper one, only not as bad. I guess it'll have to do.

Installing it was frustrating, of course. I put it in, turned on the computer, and got all kinds of stupid crap from Windows. It would lock up if I tried to do anything more complicated than moving the mouse. Argh etc.

So I shut down, removed the sound card, booted up, removed all the goddamned drivers, shut down, reinstalled the sound card, and rebooted.

Then it worked. And it can record from "What U Hear".

By this time, though, I was a snarling wreck and I decided, "It's shootin' time!"

Loaded up the range box with bullets, my headphones, and the Astra; I slipped the Mossberg into its travel case, and took 'em to the gun range. Paid $11 for 1 hour of range time and $2.25 for three silhouette targets to shoot at.

First up: the Astra. The damn thing sounded like a cannon in the lane bay. I mean, it was pretty close to what guns sound like in the movies, that's how frickin' loud the thing was. (And I wasn't even using a subwoofer.) (Wait, what?)

Minimum range there is 30 feet. My performance with the Astra was not stellar, but out of 18 rounds, 14 actually hit the piece of paper, and only a few were outside the silhouette. So figure about 60% of the time, at least I winged the guy, and believe me, I scared him with the other ones. With a gun like that at 30 feet, that's pretty good shooting.

Then I turned my attention to the Mossberg.

I shot a few magazines and tried to get the sights into some semblance of zero. I could hit the target with them as they were, but the bullets weren't going where I was aiming, and I wanted to fix that. Once I had the zero set such that I could reasonably expect the bullet to go where I was intending, I set everything down and bought a few more targets so I could get an idea of how well I was doing.

I fired at the left top and bottom targets of a five-target sheet, checking the zero and tweaking it a bit more. Then I took aim at the center target; take a look at how I did: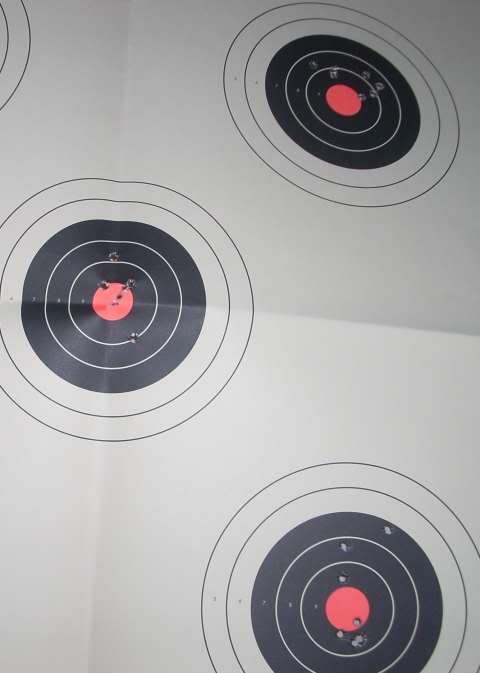 I--second time shooting the gun, first time fiddling with the sights, super-nearsighted--managed to shoot like that. Out of seven rounds, three within the bullseye at 60 feet, and two more inside the 9 ring. None of them farther out than the 8 ring.

*flex*

...more luck than anything, really, because with the next mag I went to the upper right target. Still, I stayed inside the 8 ring there; but then I refilled the mag again and went down to the bottom right, and put one in the 7.

In my defense, my glasses kept fogging up. Still....

Next I shot some silhouette targets again.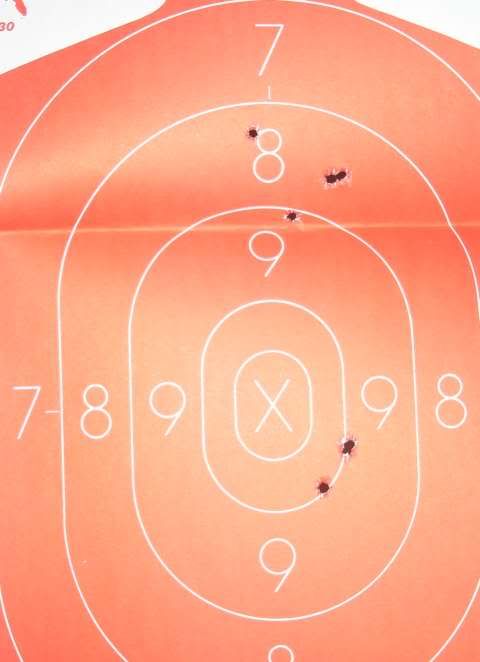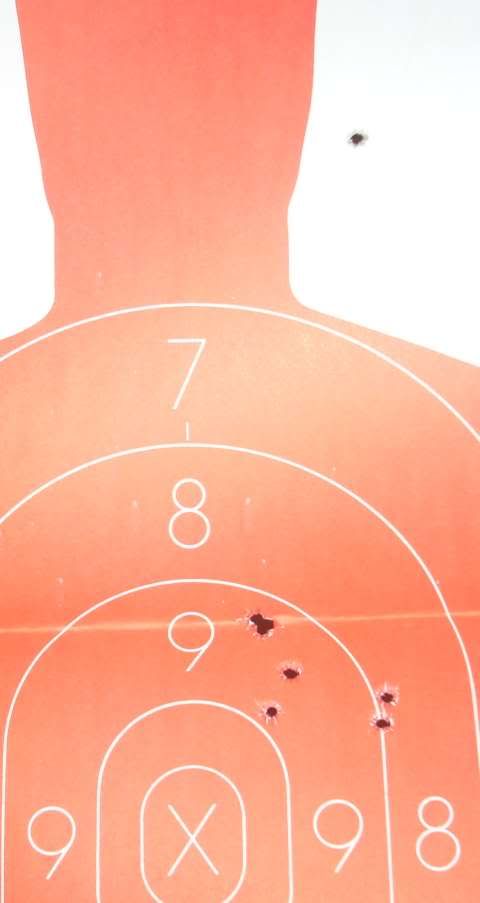 The very last round I fired today was the one next to that last guy's head. *sigh* Well, the other six punctured his pericardium even if they didn't get his heart.

That second picture--I put the last round through the head inteading to hit dead center; looks like I'm tightening up my thumb when firing. Or maybe I pulled the trigger the right way and the zero is just off by that much; I'm not good enough to know. (I would wager it is all of the above.)

In any event, I spent an hour putting lead through paper targets and arrived home feeling drained; but at least I no longer feel stressed out.

* * *

The range is pretty nice there. I was alone in the range, it being early on a non-holiday afternoon. Once I'd finished shooting, I swept up my spent brass and deposited it in the appropriate receptacles, and made sure I left the place as I found it. It does not do to piss off the only gun range in easy driving distance, particularly when you get to shoot your .22 rifle there. Dang.

I could have shot more had I more magazines; as it was when I finished shooting the mag I had to stop and reload. Even so, by the time my hour was nearly up, the Mossberg's barrel was noticeably warm. Heh.

I still have eight rounds left for the Astra, out of a box of 50. Well, 6x8=48 and I've run seven mags' worth of bullets through it now; that leaves eight. It exhibited the same misfeed it did when I had it over at Og's gun club in October, but not always on the last round in the mag; and I think it just needs a good cleaning, to be honest. In any event all I had to do to clear the misfeed was to pull the slide back, so that's good.

I still need to get my hands on a cleaning kit, dang it.

I'm going to have to ask my brother if I can take my nephew there sometime. I bet he'd like that. (Maybe my niece, too, but not both of them at once.) The youngest is still a bit on the young side for shooting real firearms, IMHO. (I'm not sure how old he is. I don't think he's ten yet. Nine, maybe? Nine sounds right. I don't know. How sad is that?)

* * *

Anyway, as I said, I feel drained; I really had to cudgel myself to get myself moving today. If replacing the sound card hadn't been a royal pain in the petutchka, I probably wouldn't have gone to the range today. As it was, that pissed me off so much I found myself with plenty of energy, so WTF, I used it constructively.

I think I'm going to hit the hay for a while.

ADDENDUM: Incidentally, since I was there anyway I had another gander at that $500 TV I saw yesterday. It was "Dynex" (Best Buy's house brand) and it's an LCD TV. 60 Hz refresh rate, 1080p.

For $500. Yeah, that's not a bad deal. And that was the regular sale price for the thing; it wasn't a display model on sale.

...looking around a bit more, though, I realized that I would probably be satisfied with a 42" screen; the vertical height is not that different from a 47" screen.

Well, it sure as hell ain't happening this year. And in all liklihood by the time I'm ready to buy one they'll be cheaper still.