I feel feverish; I'm too lazy to go get the thermometer and check. All day I've felt kind of woozy and out of sorts, which might explain why I needed to go back to bed after the last post.

I spent about two hours in a twilight state, and actually slept for perhaps one; but when I woke up (around 9:15) I was hungry and decided a gyro would do the trick.

I went and got a gyro plate from the gyro place; then sat down and started playing WoW.

Vicki hit 60th level. Thanks to a character loan from Gunbunnysmit, she got her flying mount and training and flight master's license, so she can fly anywhere in the World of Warcraft--Azeroth, Outland, Northrend, wherever. (Well, not Northrend, not yet--not until she's high enough to get cold weather flying.)

Vicki's herbalism is high enough that the herbs in Hellfire Peninsula are already green to her. And I need them, because her inscription is so high I can no longer advance it using inks made from the herbs that are found in Kalimdor or the Eastern Kingdoms.

And I re-dubbed Hayate no Gotoku eps 36-40; now I've only got three 4-ep disks left to make and I'll be done with the first series. And the second series will fit on five disks; I think that'll fill up the storage binder and I'll have to get another one. 'Cause the second series of Kimi ni Todoke starts Monday!

* * *

At least Friday was peaceful; I had three phone calls all day and none of them raised my blood pressure.

The first was from Mom's urologist's office; they hadn't been informed of her death. That took about two minutes and happened while I was giving the cats their treats this morning.

The second was a return call from the other doctor's office about the TENS unit; now I know where to take it.

The third--which I ignored, as I was trying to sleep--was apparently a sales call from the Chicago Tribune, so it's just as well that I ignored it.

*sigh*

* * *

Anyway, it snowed a bit, and now it's cold; and I was freezing my tail off in here while HnG wsa dubbing. Now I'm over by the computer and I'm too hot. Argh.

But shortly I'm going to hit the hay; and I ought to be comfortable in bed.

* * *

You know, Sakuya from HnG is a lot hotter than I thought she was: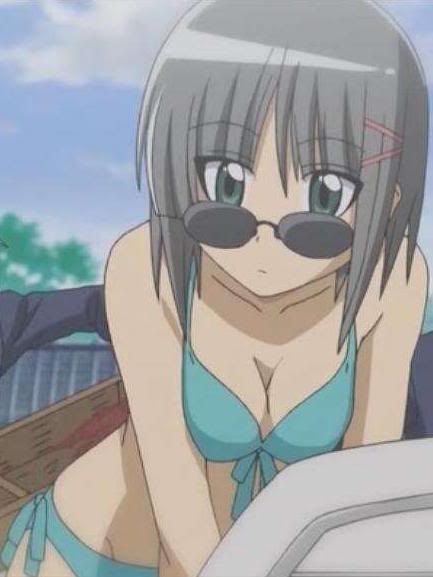 I mean, damn.