Check this shit out:
Blizzard Warning remains in effect from 3 PM CST /4 PM EST/
Tuesday to 3 PM CST /4 PM EST/ Wednesday...

* timing... snow will increase in intensity and become heavy at
times south of Interstate 80 Tuesday afternoon... gradually
spreading north into northern Illinois by Tuesday evening.
Snow... which will be heavy at times... will continue Tuesday
night into Wednesday morning. Lake enhanced snow showers will
continue near Lake Michigan in northeast Illinois Wednesday
morning... shifting into Northwest Indiana during the afternoon.
Northeast winds of 25 to 40 mph with stronger gusts will result
in blizzard conditions developing Tuesday afternoon and
continuing through the overnight hours and into Wednesday.

* Accumulations... snow accumulations in excess of a foot are
expected over much of the area from Tuesday afternoon through
Wednesday afternoon. Localized totals in excess of 20 inches are
likely... especially near the lake.

* Hazards... white-out conditions are expected at times Tuesday
night and into Wednesday as very heavy snow and strong winds
result in blizzard conditions. Snowfall rates of at least 2 to 3
inches per hour are possible... especially where thunder snow may
be present.

* Impacts... conditions will rapidly deteriorate from south to
north across the region Tuesday afternoon... with travel likely
becoming virtually impossible at times Tuesday night through
Wednesday morning. Snow is expected to fall so heavily at times
Tuesday night that plows may be unable to keep up with the snow.
Many side streets and untreated roads will likely become
impassable.
Yeah, that global warming's a bitch, isn't it?

There's a possibility that we'll have fricking thunder snow. Jeeze.

Now...the last time I had to deal with weather like this was in 2000, when I was living in Cedar Rapids. Same kind of precip (without the thunder) and all I had was a 2wd Escort to get from place to place. The night of New Year's Day, 2000, I made it home despite the streets being "impassable".

So I'm sitting here, thinking, "I can still go pick up the Ruger on Tuesday afternoon, right? I mean, it'll be 3 PM and I ought to be able to make it, since my Jeep is a 4x4...."

*sigh* But the more I hear about the weather, the more I want just to go get the thing and then come right home, rather than stop at the range.

I guess I'll have to see what the weather looks like at 3 PM, and then decide. If it's already snowing like the ass of a small white man after a dinner of cheap burritos and warm beer, I'm staying put. They can hang on to the gun until Thursday.

The only other concern I have is what do I do if the power goes out? ...bundle up and eat sandwiches, I guess. I can probably go get some wood from the woodpile in the back yard and build a fire in the fireplace if I get too cold; and if I need to cook something, I can use the fireplace--or the gas grill outside has gas, too, so I could probably do something there. I've got soup and stuff, and I can get it hot enough to eat somehow.

I know I won't freeze: in 1997, an October snowstorm knocked out power all over Cedar Rapids, and my apartment was without power for almost three days. It got down to 56° in there. I was chilly, but I didn't freeze. Just put an extra blanket on the bed and expect the cats to curl up with me. (They're standoffish; they're not stupid.)

But damn, I hope I don't have to go into survival mode. Hopefully the power won't even flicker, so I can stay warm and use the microwave and play WoW.

* * *

Twenty inches of snow would be the biggest snowstorm I have personal experience with. The one in Cedar Rapids in 2000 dumped fifteen; I don't remember how much snow we actually got in the big 1978-1979-whenever-it-was blizzard, and of course I was about the size of a softball during the Blizzard of '67.

The one in the late '70s I remember only as being f-ing cool because we had this enormous snowdrift in front of the house. I've got a picture of it: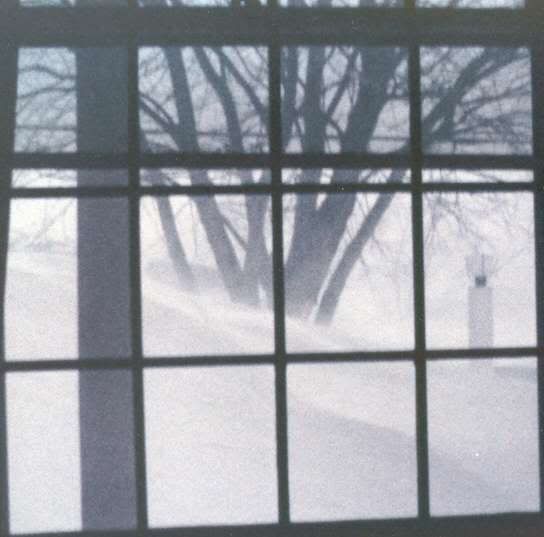 We didn't get drifting like that here in 2000, even though they got more snow here than we got in Iowa; then again, it was just a big snow without any real wind.

*sigh*

...anyway, if there aren't any new posts for a couple of days, that's why.