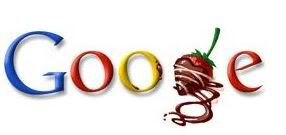 Quoth WorldNet Daily:
[Dennis] Hwang posted a comment about his design on an official Google blog, stating, "When you look at the logo, you may worry that we forgot our name overnight, skipped a letter, or have decided that 'Googe' has a better ring to it. None of the above. I just know that those with true romance and poetry in their soul will see the subtlety immediately. And if you're feeling grouchy today, may I suggest eating a strawberry."


In other words, Google sez that there's an L in that image, but we're not nuanced enough to see it. Only those who have romance and poetry in their souls will see the subtletly of his logo! Well, here is a possible interpretation of that, enhanced with the super-powerful image editing program, MS Paint:




...but even with the "enhancement" I'm not really seeing it.

Nice try, though.