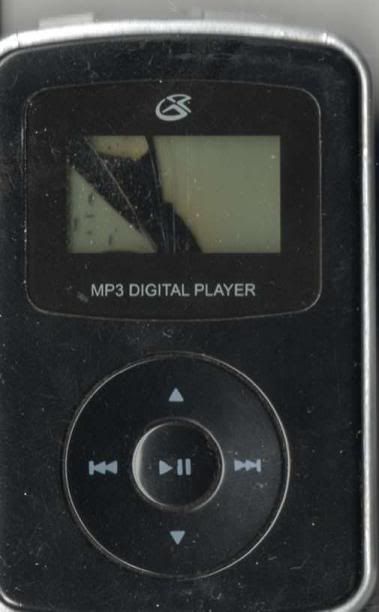 ...so I decided, before preparing myself for bed, that I would tidy the kitchen a bit, get the dirty dishes into the dishwasher and get it started, get the trash out, tidy the counters a bit...and when I grabbed my MP3 player from where I'd left it after cutting the grass the other day, I thought, "I think I'll listen to some music as I work--"

Then I said some very bad words, because I saw what condition my MP3 player was now in.

I have no f-ing clue how it ended up like that. I must've set something down on it, too hard, and broken the LCD, but I'll be switched what I did. It still works, mind you, and plays music as well as ever, but I can't see what's playing and if I ever screw up and switch the EQ to something else, I won't be able to get it back the way I like it.

In a fit of desperation, I went to Ebay:




...and bought three of them for the princely sum of $30, shipped.

"But why?" You ask. "Didn't you get that touchscreen one a few months ago?"

I did, a Trio whatever-it-was...but I like my little GPX player. It runs on AAA batteries so when it dies, I just pop in a new batt. It doesn't distort or clip when there's too much bass. The Trio is great for hooking up to the Jeep's car stereo; it's not-so-great for listening with headphones. So there we are.

Now I'll have three GPX MW238B players--though one is admittedly hot pink--to keep me going for a while. Until they invent something better.

* * *

...and I got sucked into the Ebay vortex, looking at parts for the GS450. Things like brake shoes and stuff. *sigh* Now it's 5 AM and I'm still not in bed, and I've got errands to run starting at 11 AM today.

Oh well; I can always go to bed early tonight, I suppose....