Got a startling e-mail from AT&T today--"Important! You have exceeded your data plan!"

...so I went to the AT&T web site to check it out. Oh yeah: I've used a total of 160-odd gigabytes of bandwidth out of a plan total of 150, with 6 days left in the billing cycle.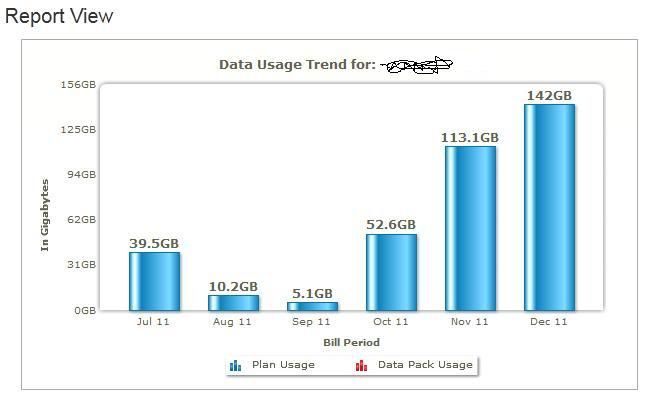 As you can see, my data usage rose precipitously starting in October...when El-Hazard went on-line. Heh.

AT&T is really decent about what happens when you go over:
We'll waive the charges for additional data this month and notify you as your usage approaches 150 GB in future months.

The next time you exceed 150 GB you'll be notified, but not billed. However if you go over your data plan in any subsequent billing period, we'll provide you with an additional 50 GB of data for $10. You'll be charged $10 for every incremental 50 GB of usage beyond your plan.
Emphasis theirs. And $10 per 50 GB after you've used up your regular 150 GB isn't all that bad a deal, either. I could see how it could easily be a lot worse than that.

...I'm at a total of 160 GB for the month, so El-Hazard will just get a week's vacation; and from now on I'll be running it a lot less. There should be a setting in uTorrent for controlling bandwidth, anyway.

Still: I wasn't expecting to have this kind of problem, ever; I guess building a torrent box and letting it run 24/7 is a good way to saturate your data plan. Heh.