Because I just can't stop writing!

...or something.

Read right-to-left: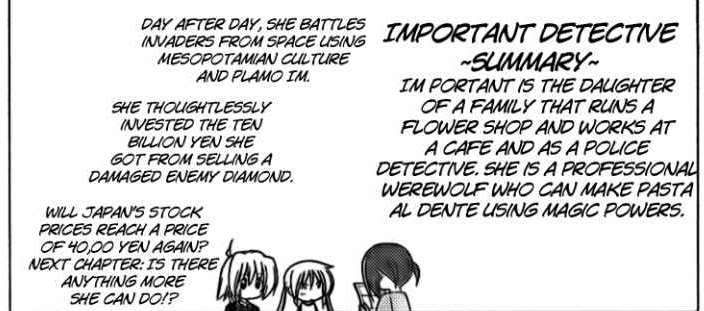 This is from Hayate no Gotoku. Nagi is hyper-rich and is both hikikomori and otaku to an unhealthy extreme. She has dreams of someday being an ultra-famous manga artist.

...at the beginning of the series she is rich enough that she could buy a major publishing house and make them publish her manga, but apparently she wants to do it the way every other manga artist has to.

Of course Nagi is suffering from the kind of thing all nascent manga artists suffer: trying to do too much at once. American Dawn (the first series I came up with) is the same way, to a lesser extent; it combines far too many disparate elements and ended up being a wreck.

AD could be saved, if I bothered to do any work on it. Oh well.

BTW how does one become a "professional werewolf"? I mean, do you major in lycanthropy in college to do that, or what?