Step one is to get the old console TV out of the family room and recycle it. Put the 35" boob tube in its place, with my old stereo for oomph--all of this assisted by my nephew, who is here at least until late afternoon today.

Then I'm taking him laptop shopping. The laptop he had died an untimely death last month (motherboard went "poit") and he's going to need a new machine sooner or later. He's not buying today, but at least he can get an idea what's out there and what it'll cost him.

Then I've got to take him back to my brother's place. Or at least partway, depending on how things shake out.

* * *

Econazi drone shot down by the hunters it's monitoring. I love it.
As the drone rises above the treeline, though, the quiet buzz from the drones engines is interrupted by much louder bursts of sound from the nearby fields.

"Are they shootin' at it?" asks one of the SHARK volunteers incredulously in a video taken at the time of the launch.

No. No. …it cannot be. Could it be that people armed with guns in preparation to shoot and kill flying birds might brazenly shoot at an expensive aircraft paid for by animal rights activists and equipped with video equipment intended to gather data with the intent of putting an end to their prized activity?!? No! It most certainly is not possible.

Then, as the drone staggers and begins to fall, the same SHARK [SHowing Animals Respect and Kindness] volunteer is heard saying, "Oh, dang it."

…and with that stoic admission – and a collective gasp worldwide – we are left to conclude that, yes. Yes. …perhaps, it is possible.

A police report was filed by SHARK members in hopes that the hunters who shot down their survellance drone will be identified and prosecuted to the fullest extent of the law. On the video, the founder of SHARK expressed his lack of faith that local police will be working hard to identify the perpetrators. How odd his view… given the unconditional support that southern law enforcement has typically afforded animal rights groups.
This is going to seem a bit insensitive, but...

AAAAAAHHHH HA HA HA HA HA HA HA HA HA HA HA HA HA HA HA HA HA HA HA HA HA HA HA HA--

*GASP*

HA HA HA HA HA HA HA HA HA HA HA HA HA HA HA HA HA HA HA HA HA HA HA HA *THUD*

* * *

Science!

Lab-grown beef is soon to be a reality!

USB device can sequence DNA in seconds!

* * *

Pornography for kids in the name of Planned Parenthood! Wait, this isn't really "science", is it? "If a dirty old man in a park showed 10-year-old children the graphic images Planned Parenthood pedals as education, he would be arrested."

No, you're thinking of this all wrong. You see, for PP, this is advertisement. The abortion business is a multi-million dollar industry, and the only way--the only way--PP can continue to rake in the dough is if everyone has as much sex as possible all the time.

You see, contraceptives fail. The failure rate is low but nonzero for each and every method, even used correctly; out of every hundred sexually active women who use the Pill, for example, one will get pregnant anyway.

Planned Parenthood relies on that. They want that one woman--who obviously doesn't want children, else why take the Pill?--to then come to them for an abortion. And other methods are even less effective than the Pill is. The failure rate for condoms is several percent, for example (working 87% of the time is the figure I recall, but I may be mis-remembering) and any method which requires interrupting foreplay to install things inside the vagina are even less reliable.

So if you have a million women having sex all the time, there are going to be unwanted pregnancies--and of them, Planned Parenthood will get to perform a certain percentage of abortions. It's statistically certain.

...so Planned Parenthood is doing everything it can to convince kids that unlimited sex is a human right, that abstinence from sex is unrealistic and awful and tragic. Even to providing materials to wind up their already high-strung sex drives.

* * *

Alan Caruba asks why we should pay newspapers for the bullshit they call "news"? Good question. I know I stopped with that nonsense.

Technically, my Mom was paying for the newspaper, anyway. I didn't. After she passed away, I let the subscription run out.

Says Caruba: "Simply stated, if some Green group tells you something, get a second and third opinion. They are lying." ...yeah, that's a shock, innit?

* * *

You really can't blame Richard Dawkins, 2012, for the fact that his great-great-etc-gran'ther Henry Dawkins owned slaves. No, but you can realize that the Dawkins lineage has been on the wrong side of the great moral questions for TWO FRICKIN' CENTURIES.

Vox Day concludes (before the update section), "Pity the poor Dawkster. He can't help it. His obnoxious behavior is only the consequence of his selfish, selfish genes."

* * *

"Babysitting while white". White man takes his black granddaughter for a walk; police arrest him for kidnapping.
As soon as we crossed the street, just two blocks from my house as the crow flies, the police car that just passed us hit its lights and wheeled around, with five others appearing almost immediately, all with lights flashing. The officers got out with tasers drawn demanding I raise my hands and step away from the child. I complied, and they roughly cuffed me, jerking my arms up behind me needlessly. Meanwhile, Ty edged up the hill away from the officers, crying. One of them called out in a comforting tone that they weren't there to hurt her, but another officer blew up any good will that might have garnered by brusquely snatching her up and scuttling her off to the back seat of one of the police cars.
SUE THOSE BITCHES. Tackling a man and putting him in handcuffs is false arrest.

* * *

"Lone wolf". *sigh*

The media is still trying to protect their boy in the White House, M.C. Little D.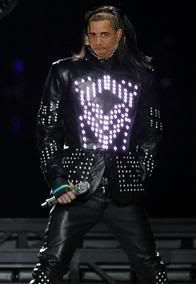 * * *

Let's make with the DOOM!, shall we?

"In what is sure to come as a shock to absolutely no one, the Greek debt situation is worse than expected."

*

A three-fer, starting with the DOOM! link and then a couple from elsewhere:

The falling labor participation rate is beginning to be impossible to ignore.

Obamanomics is an abject failure which really isn't all that surprising.

Unemployment has set a new record thanks to Obamanomics! Even if you accept the 8.3% figure as fact (which it's not) unemployment has still set a record by remaining above 8% for so long.

Oh, but that's not Obama's fault, oh no! That's Bush's fault! Even though Bush hasn't been President for three years, it's just that his policies were so awful that the consequences continue to reverberate to this very day!

Damn, Bush was an awfully powerful President, wasn't he? I mean, three years after Obama took office, he still can't seem to fix things from where Bush left them. I mean, Guantanimo is still open, and we're still in Iraq and Afghanistan, and Rendition is continuing, and all those bad things that Obama said he was going to end are still happening because, well, damn! Bush put a padlock on the stuff and didn't give Obama the combination! Shit!

*

And from Boortz, Caterpillar is planning a new plant, only it's not going to be in Illinois.

Yeah, there's that huge tax increase Illinois enacted last year: corporate rates went up 45% and personal rates 67%.
Since raising those income taxes in January 2011, Illinois' unemployment rate rose to 9.8% from 9% … at the same time when the unemployment rate dropped in 46 states.

And at the end of the day, Illinois has failed to solve the problem it originally intended to solve: its budget crisis. Now with higher unemployment and businesses leaving the state, Illinois has managed to increase its debt by $2 billion and now has a deficit of $7 billion.
Which side of the Laffer curve do you reckon Illinois is on? Eh?

Thanks, Pat Quinn! Thanks, Illinois Democrats!

* * *

And from Denninger today:

Japan has a trade deficit. Japan was a net exporter for decades. Like, since the 1950s.

Iceland has done what other nations should do. As Denninger puts it, "erect the middle finger at the banksters".

And I might have been wrong about my confident prediction that gas would not go over $5 per gallon this year, because it's an election year and Barack Hussein is in the same club as the oil CEOs are. I forgot about OPEC.

...you know, it really is a shame that we have to let a bunch of totalitarianist goat-herders stuck in the 14th century dictate our energy economy for us. There's so much coal, gas, oil, and URANIUM AND THORIUM in the continental United States we could easily tell the entire planet to stick its fossil fuels where the sun doesn't shine.

If, y'know, we had an energy policy that made any goddamned sense whatsoever.

* * *

Ann Barnhardt. I wish she'd move to a linkable format. But:
...[T]he European Central Bank has just arbitrarily changed the terms of all of its Greek bonds with zero engagement with the market or any judicial review. They just changed the terms of their Greek bonds with the wave of their hand. In doing this, they have utterly SCREWED everyone else holding Greek paper, essentially making all other Greek bonds worthless with zero salvage value.
Is that why the Dow is rumbling around an up position of about 45-odd points? How can any rational person look at this and think it's a good thing?

Here's the piece she links. It's not good news:
I am not going to speculate about anything this morning. No guesses about what the Finance Ministers might do on Monday, no simple addition or subtraction that the data used to forecast Greece's return to a 120% debt to GDP ratio is a falsification of the numbers, no mention that only nineteen cents of any bailout for Greece would actually go to the country; I am not going to discuss anything except what the European Central Bank has actually done and what we now know with a one hundred percent (100%) certainty and the horrifying implications of their actions.

The ECB, on its own and without judicial or parliamentary review, has swapped their Greek debt for new Greek debt that is not subject to any "collective action clause." They did this unilaterally and without the consent of any other sovereign debt bond owners of Greek debt. They did this without objection of any nation in Europe. They have retroactively changed the indenture, the contract made by Greece with all of the buyers of their bonds, when the debt was issued. There is no speculation involved in these statements, there is no longer any guesswork on what might be; the ECB swapped their bonds for new Greek bonds with the assent of the Greek government and it is now a done deal.
In other words, the legalese printed on the paperwork about what you get for loaning your money to the Greek government--about how much you can expect to get back, etc--it's all worthless now:
It is the "collective action clause" today but tomorrow it could be the maturity or the coupon or any other terms and conditions in an indenture. It is Greece today but tomorrow it could be France or Portugal or Italy. The "Rule of Law" has been abrogated and tossed aside in the name of political contrivance.
So if you own a Greek bond with a face value of 100 Euros? ECB can decide that "100" means "50" or "5" and you can't do squat about it. A 10-year bond can suddenly become a 30-year or 50-year or 100-year if the ECB finds it politically expedient. By executive fiat, the ECB has made privately-held bonds of any European country totally worthless. Not now, but soon enough.

You think I'm wrong? That I've read the article and come to an incorrect conclusion? I came to that conclusion before I read this paragraph:
European sovereign debt must now be examined with a new set of metrics. How much yield would investors demand if an IBM indenture, as an example, had language that stated "This indenture is subject, at any time during the life of the bond, to any changes mandated by the Federal Reserve Bank." Stated another way, what yields would be acceptable to bond investors if there was a Federal statute that said "All indentures in the United States may be changed at will by the Federal Reserve Bank upon their sole discretion." No "Rule of Law," no judicial appeal and a fait accompli whenever desired. This is, in terrifying fact, exactly what the European Central Bank has done and if we no longer know what we are buying and if the terms and conditions of an investment can be altered retroactively at will without the consent of bond holders and to the advantage of the ECB then either we should not buy these credits, as in Atlas shrugged, or yields should be in the mid-range of junk bonds because European sovereign bond indentures now are worth no more than the paper on which they are printed.
Yeah, that pesky little "rule of law" thing? Pssh. That's for the peasants.

* * *

Okay, let's lighten up a bit. AoSHQ overnight open thread begins with Jeeves and Wooster references!

Hugh Laurie (aka "Greg House") and Stephen Fry (gay as a mofo) did such a bang-up job of portraying those characters it's impossible to imagine anyone else ever topping their performances. It's like Heath Ledger as Joker or (my parents always said--I never really saw it) Basil Rathbone as Sherlock Holmes.

Jeeves and Wooster is high on my list of all-time favorite British comedy shows. I really ought to get a copy of it on DVD one of these decades. And whenever I see a book by P.G. Wodehouse, I grab it, esp. if it has the word "Jeeves" in the title.

* * *

Og says "read John Kass" but I don't have time to right now. I'll get back to that one.

* * *

Missorah.com got hacked, and one result of this ha><0ring is that my system has been rootkitted...again.

This despite having current antivirus software, updated Java, fully patched Windows Defender, operating Windows firewall, and a firewall in the router.

If Windows Defender fails to find the damn thing, I think I'm going to go buy Win 7 and upgrade the system to it. I'm tired of this happening.

Something's wrong with this machine's install of Vista, because the laptop doesn't have this happen and El-Hazard doesn't have it happen. I don't hear stories from anyone else about having this kind of thing happen to them--and with the software I have installed on the system it shouldn't be happening to me, either, so WTF?

What a pain.