I was taking a nap, and when I woke up, I was thinking about the dirt bike.

I thought, I have a welder. I have sheet steel. I have tin snips. Why can't I MAKE a taillight bracket and bolt the existing light to it?

...so by the time I was fully awake I had a design in mind that will do the job handily if I can manage to build it without blowing my street off the map. It won't be really pretty but it'll be a damned sight prettier than the asstastic way it was held on before: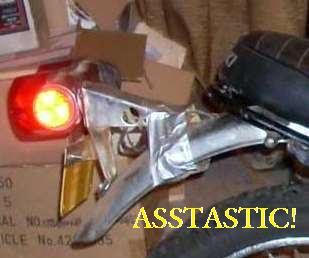 The best part is I could even make the majority of it out of one piece of steel; as long as I can get the bends right it'll even look okay. Once I have the basic bracket bent and welded, then I can copy the mounting plate from the old bracket, and fab up a license plate bracket, and weld them on. Drill holes for mounting bolts and wire passage, clean up the edges and the welds with a die grinder. Clean it off with laquer thinner, then prime it and paint it black--it'll be fine.

I even have all the materials on hand already. The only thing I need to buy is some rubber bushings, aluminum spacers for the bushings, nuts, and bolts--all to mount the thing to the fender.

So I scribbled out the basic design on a piece of scratch paper. I'll refine it later, when I have fewer things on my plate and it's, y'know, daytime.